WRK Documentation
Windows Research Kernel @ HPI
The source code documentation generator tool Doxygen can be used to generate a collection of HTML pages which allow easy navigation through large amount of source code files.
We created a WRK documentation using doxygen to allow a better exploration of the Windows Research Kernel source code.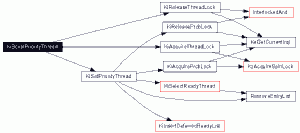 ---
The documenation was generated using a small doxygen filter for .C, .H and .ASM files. Comments written in Microsoft-style (
/*++ ... --*/
) were transformed into the doxygen specific format (
/*! ... */
). For assembler functions, C-like stub functions are generated which allows doxygen to link to this functions. Doxygen generates roughly 5 Gbyte of images and HTML files for the whole Windows Research Kernel source tree.
---
UPDATE:
Doxygen Config File for Doxygen 1.4.6
WRK Filter
The doxygen filter for the WRK source code could be improved. 🙂
Comments