Dipl.-Inform. Theodor Heinze
Research Interests
Theodor Heinze studied computer science in natural sciences at the University of Bielefeld. He received his diploma in October 2009. He is interested in topics such as application of machine learning and data mining to decision support and medical image processing.
Since January 2010 he has been part of the Operating Systems and Middleware Group and the Fontane Lab as a research assistant and PhD student. His current research project is "Decision Support in Telemedicine".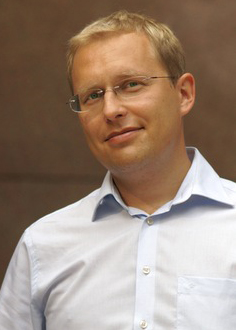 Biographical Sketch
| | | |
| --- | --- | --- |
| - | Research Assistant at Operating Systems & Middleware chair at Hasso-Plattner-Institute, Potsdam | since Jan 2010 |
| - | Diploma in Computer Science in Natural Sciences (Dipl.-Inform.), University of Bielefeld | Oct 2009 |
Publications
T. Heinze, A. Polze, M. von Lowis, C. Sprenger and M. Oeff "Artificial neural network in early identification of heart failure progression in patients with telemonitoring management of chronic heart failure, European Society of Cardiology Congress 2012.
T. Heinze, A. Polze, M. von Lowis, C. Sprenger and M. Oeff "Künstliche Neuronale Netze in der Analyse konsekutiver Daten des Telemonitoring bei chronischer Herzinsuffizienz," 78. Jahrestagung der Deutschen Gesellschaft fuer Kardiologie, 2012.
T. Heinze, M. von Lowis and A. Polze "Joint Multi-Frame Demosaicing and Super-Resolution with Artificial Neural Networks," 19th International Conference on Systems, Signals and Image Processing (IWSSIP, 2012.
T. Heinze "Robust Color Joint Multi-Frame Demosaicing and Super-Resolution Algorithm," Signal and Image Processing, 2011.
T. Heinze, R. Wierschke, A. Schacht, and M. von Lowis, "A Hybrid Artificial Intelligence System for Assistance in Remote Monitoring of Heart Patients," Hybrid Artificial Intelligent Systems, pp. 413-420, 2011.
A. Polze, P.Troeger, U.Hentschel and T.Heinze, "A scalable, self-adaptive architecture for remote patient monitoring," First IEEE International Workshop on Object/component/service-oriented Real-time Networked Ultra-dependable Systems. Carmona, Spain, 2010.